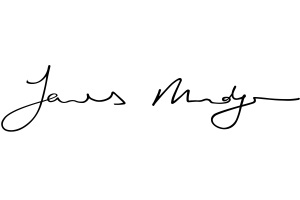 At James Mudge Furniture Studio we pride ourselves in providing beautiful pieces of solid-wood furniture for residential and commercial interiors. Our consistent attention to detail, quality and craftsmanship ensures long-lasting products to be enjoyed for generations.
With a background in architecture and a family history of traditional carpentry, James Mudge's designs are situated in both contemporary line and form as well as strike a balance with a classic aesthetic.
Most of our furniture is made from solid wood obtained from sustainable FSC approved sources. In pursuit of retaining the integrity of the natural resource we seal timber with either a water-based, environmentally sustainable lacquer or an environmentally friendly oil that is locally manufactured and contains only natural ingredients.
With over 20 years of experience in the industry and 10 years in this business, the team at James Mudge Furniture Studio is dedicated to providing an excellent product, service and lifelong relationship with our clients.
Products
Hardwood Chair
The Hardwood Chair is a striking contemporary dining chair design. The gentle curves of the backrest and the shaped timber seat are offset by the crisp lines of the angled timber legs. The elegant scoop in the timber backrest provides comfort as well as the characteristic attention to detail found in all our pieces, exposing beautiful, traditional joinery techniques. This design is available in painted finishes, please enquire for colours. We can also make this design with an upholstered seat (fabric or leather) of your choice.
Dimensions: 540 w x 570 d x 770mm h
Cost per unit: R 4,830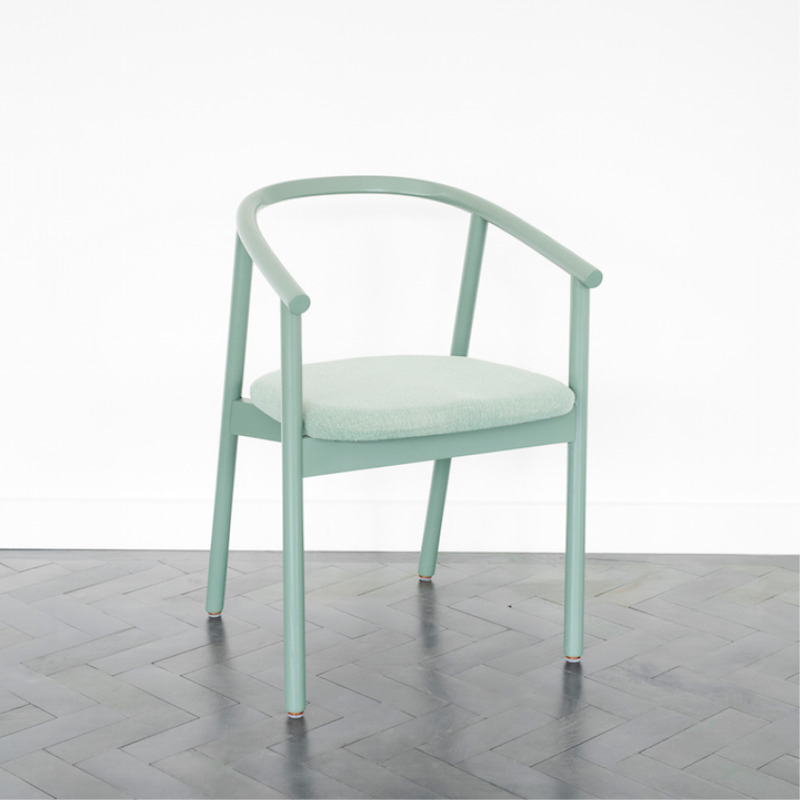 Café Table
The Round Cafe Table is a lightweight design perfect for compact spaces or single-use areas – a small table for snacks and drinks, or for placing a statement lamp. Made with a Fenix Top, the Cafe Table is easy to keep neat and clean, well-suited to commercial venues. This design can also be made with a solid timber top in any of our various timber options and is optionally made with three legs when made in smaller diameters.
Dimensions: 850mm diameter x 750mm high
Cost per unit: R 7,500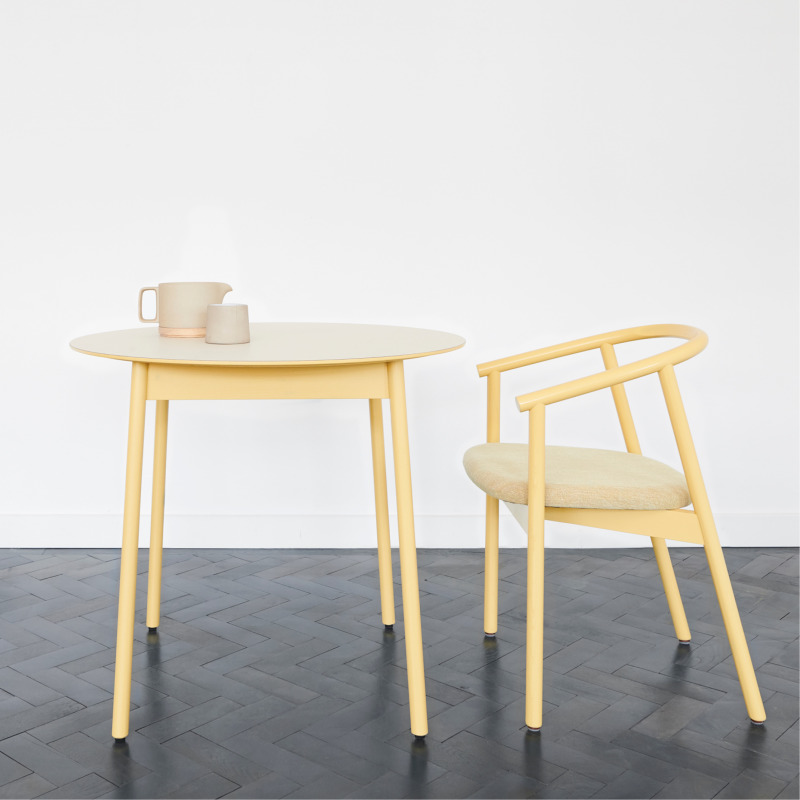 Spindle Back Chair
The Spindle-back Dining Chair is a traditional design, with roots going back as far as 16th century England. Our interpretation shows a minimalist reduction of detail to amplify the fine lines, curves and balance of a well-known and well-loved classic. The solid timber seat is shaped for maximum comfort and the wide-splayed spindles of the back allow you to really sink into this chair, making it perfect for a leisurely dinner party. The Spindle-back Chair design is available in a number of timbers and finishes. It can also be made in painted finishes.
Dimensions: 550 w x 550 d x 815mm h
Cost per unit: R 4,830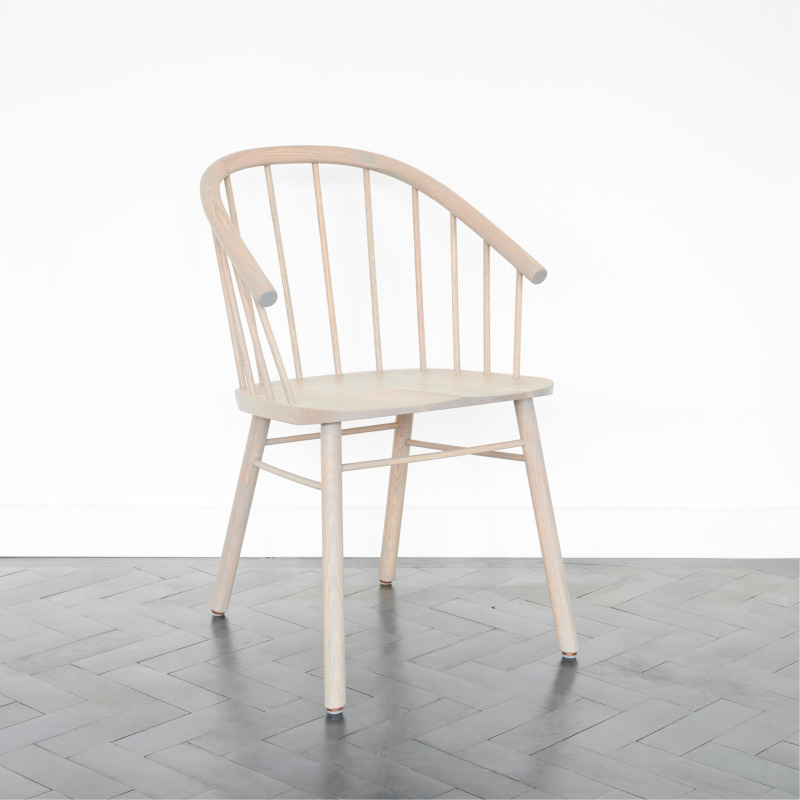 Brass Top Table
The Brass Top Series, which includes side tables, dining tables and desks among others, is a combination of brass and solid hardwood. The brass provides an interesting departure from solid timber whilst maintaining the material integrity of our designs. Brass is historically used in furniture and architecture and develops a worn-in patina over time, much the same as solid wood. This design is available in a wide array of sizes and finishes.
Dimensions: 2000 L x 900 w x 750mm h
Cost per unit: R 21,400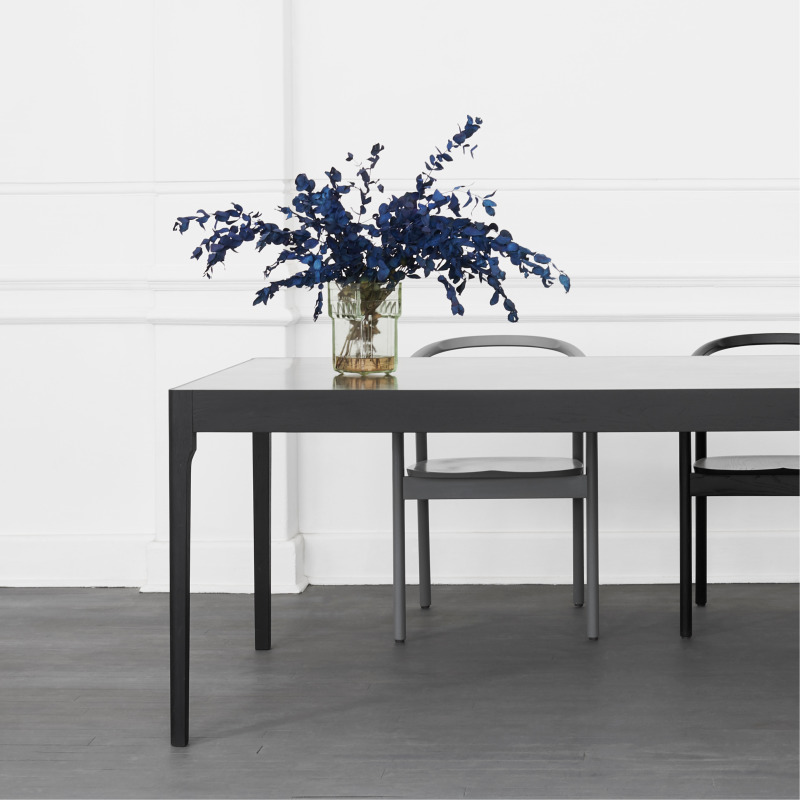 Y Table
A clean, contemporary design, the Y Dining Table demonstrates the skill required to manufacture the complex angles and joints of its base, despite delivering a simple, utilitarian design. In this design, a refined rectangular top provides a quiet background that draws one's attention to the finely crafted solid wood legs of the base. The Y Dining Table can also be made as a coffee table, dining room server or entrance table, as well as in a round version. This design is suitable for indoor use only and should not be placed outdoors.
Dimensions: 3000 L x 1000 w x 750mm h
Cost per unit: R 37,950